Handmade Unique 4″-7.9″ Tibetan Full Moon Singing Bowl For Sound Healing, Meditation, Yoga, etc.
These handmade singing bowls are unparalleled in beauty and quality.
In accordance with an ancient Tibetan formula, each bowl is carefully hand-crafted with Himalayan metal (Sanskrit-panchaloga) by skilled Tibetan artisans using traditional techniques. They have been rigorously tested to ensure that they meet our highest quality control standards. which means that they have been determined to be of master quality.
Our bowls create an incredible sound with rich, warm and vibrant overtones. And, the dual surface mallet's wood surface brings out high tones while leather exterior creates low tones that instantly restore peace and harmony within the mind and body. As a result, These singing bowls are among the finest for aesthetic quality, richness of sound, sustainment of tone, and ease and smoothness of playing.
The vibrations created by a singing bowl benefit the body by reducing stress, positively affecting the nervous and immune systems, combating depression, and balancing the chakras. Widely used for chakra healing, crystal clearing, mindfulness, creative thinking, soothing music & well-being.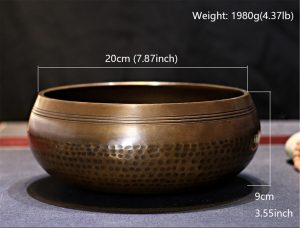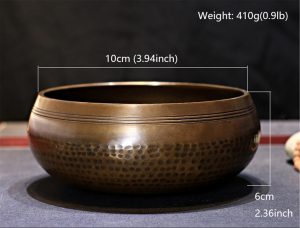 SPECIFICATIONS
Material: Copper Body and Sheepskin Hand Hammer and Cotton Bowl Mat
Production process: hand forging and engraving
Size: Please refer to the product size chart picture
Small: 10cm × 6cm (3.94in × 2.36in ) , weight: 410g(0.9lb)
Large: 20cm × 10cm (7.9in × 4in ) , weight: 1500g(3.3lb)
Package Includes:
1 x Singing Bowl
1 x Sheepskin Hand Mallet
1 x Bowl Mat
This item ships from outside the USA with trackable courier.
Please note these are metal handmade items and might show signs of workmanship such as smears, small indentations etc.