We all want our homes to be a haven; a safe place to relax and unwind after a long day. But sometimes, it can be hard to fully relax when your home is filled with the stressors of daily life. That's where our Solid Wood Diffuser comes in!
This diffuser is not only stylish and modern, but it also features a built-in Bluetooth speaker and colorful controllable LED light. Plus, it comes with an auto-off function and is made of BPA-free materials. Whether you're wanting to fill your home with the relaxing scent of lavender or the uplifting aroma of citrus, this diffuser will do the job perfectly. It's also a great way to boost your mood and create a more inviting atmosphere for guests.
If you're looking for a way to upgrade your home and create a more relaxing environment, look no further than our Solid Wood Diffuser!
Stylish 5oz Solid Wood Diffuser With Night Light Auto Off & No BPA + Built in Bluetooth speaker
This diffuser requires water + essential oils, for a Waterless Model click here
Color: Wood color
Lighting: colorful controllable
Material: solid wood+ glass+ PP
Water tray capacity: 150ml / 5oz
Input: AC100-240V
Weight: 1000g / 2204.62 lbs
Output: 24V
Product size: 5.04 inch/ 6.77 inch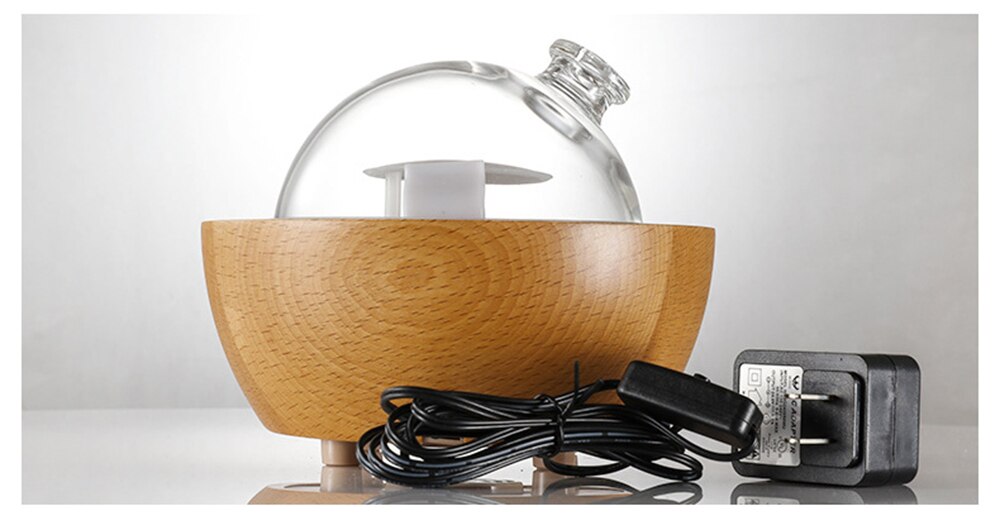 MUSIC:
After the machine is turned on, bluetooth will be turned on  automatically, and the mobile phone can be connected to the machine by turning on bluetooth scanning and connecting to "Nanfang"
"Mist" Button:
First press to enter the continuous mist mode.
Second press to enter the Intermittent mist mode.
"Light" Button:
First press, turn on the light and there are 7 colors changing automatically.
Second press, pause on the current color.
Third press, move to the next color, Color loops
QUIET OPERATION– Adopted ultrasonic technology to provide you a calm and relax environment. It is super quiet without annoying noise and will never bother you while sleeping or studying.
AUTO SHUT-OFF – The diffuser features a safe auto-off when the water runs out, avoid short-circuit or damage of your property. You don't have to worry about anything, just relax and enjoy.
MULTIFUNCTION – 3-in-1 design, night lamp + essential oil diffuser + humidifier.
No BPA and no water automatically shuts down
Ultrasonic diffuser is made from BPA-free, eco-friendly PP materials. humidifier will auto off when it is waterless, adds to safety and energy efficiency. Ultrasonic diffuser is safe enough even if you give it to elderly people, don't need worry that they forget to turn it off.
Note:
Oil is not included in the package.
Please read the instructions carefully before use.
Clean the nebulizer regularly. Please clean the diffuser at least once a week and keep it dry when not in use.
Do not touch the ultrasonic vibrating plate inside the tank directly with your hand.
Never turn on the power source when the water tank is empty, doing so may cause damage to the ultrasonic plate, malfunction or water leakage
This Item is shipped from outside the USA with trackable courier